166 BETTEN – Peace and Noise
Site specific sculpture and sound installation. Realisation for the art award on the occasion of the 350th anniversary of Peace of Westphalia, Hagen a.T.W., 1998, DE

Susanne Tunn's work is almost implacably resistant, a testimony to the endurance of stone. When I say almost I mean that, time, storms, climatic changes etc. do have an effect on stone, I also mean that Ms. Tunn's patient chipping away at the end of the 20th Century gives it another history.
In some of the myths from Central and South America the natural world is depicted as inhabited by living spirits. It's formidable to see how silent stones are brought into life, their spirit isolated from their source, a bulwark, something that is "there" as if it had always been.
And now concrete! 166 beds – peace and noise, obdurate beds that might be "silent as the tomb" yet have a strange music emanating from them. Again, a spirit that inhabits these human-made, industrialized, repetitive forms. There is a discomfort to the living body resting upon these beds – these beds in a church are as crypts perhaps ready to be put into the ground, a contemporary evocation of anonymous, mass death caused by political and social unrest.
Nancy Spero
Download PDF
© Maria Otte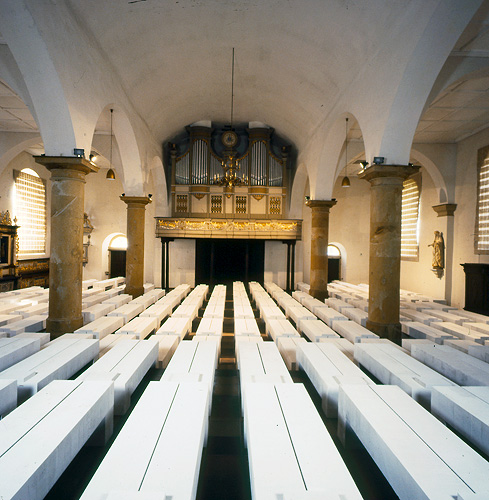 © Maria Otte
© Maria Otte
© Maria Otte
© Maria Otte
© Maria Otte
© Maria Otte
© Maria Otte
© Maria Otte
© Maria Otte
© Maria Otte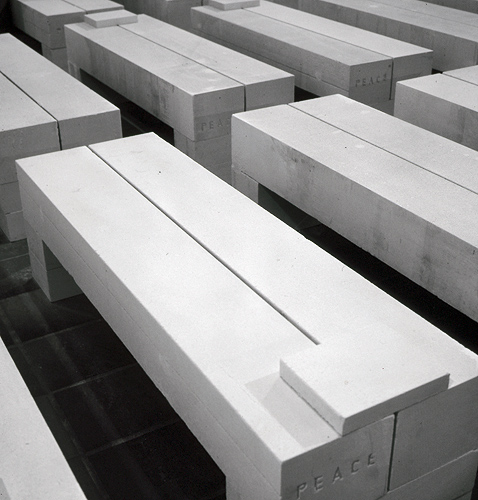 © Maria Otte